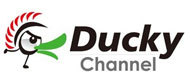 Compact and beautiful
60% more compact than the classic version, the Ducky Channel One 2 Mini RGB has all the advantages of a traditional keyboard in a small package. This gamer keyboard promises to win and offers you the ideal grip for this. It features Cherry MX RGB Silver switches to prevent accidental switching and a multi-coloured backlight. To keep you going throughout your career, each key has a PBT coating for maximum durability. Simply plug your keyboard into your computer's USB port and start playing!
INIMITABLE LOOK
Enjoy a quality keyboard while focusing on the essential features. This Ducky Channel keyboard gives you an ideal control surface. Each key has a PBT coating for increased durability and longer life due to reduced wear and tear from hours of play.
The One 2 Mini RGB has individual multi-colour backlighting for each key. Select from several effects and play in the best conditions! You'll also get the advanced n-key rollover system, which allows you to press an unlimited number of keys simultaneously.
CHERRY MX SILVER SWITCHES
Pressure required : 45 g
Contact point: 1.2 mm
The Silver switch is 40% faster than the Cherry MX Standard switch and offers extremely short reaction times and high switching frequencies. Unaffected by dust and dirt, it has a service life of more than 50 million actuations. And with a 1.2 mm contact point, it is the fastest mechanical switch available.