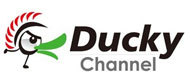 Reliable and durable performance
Go for the win with the Ducky Channel One 2 Tuxedo. This high-end mechanical keyboard offers superior gaming comfort with PBT keys, Cherry MX Blue switches and a two-tone design. Easy to use, just plug it into a USB port on your PC.
FEEL THE VICTORY COMING
Enjoy a quality keyboard while focusing on the essential features. This Ducky Channel keyboard gives you an ideal control surface. Each key has a PBT coating for added durability and longer life through reduced wear and tear from hours of play.
And with indicator lights, you'll know right away when the Num Lock or Caps Lock functions are activated.
CHERRY MX BLUE SWITCHES
Type : touch-sensitive
Pressure required: 50 g
MX Blue switches provide audio and tactile feedback. In addition to feeling the point of activation of the key, you will also hear a 'click'. This switch is activated when the key is pressed halfway down. This allows you to have a fast, non-fatiguing keystroke once you get used to this type of key.