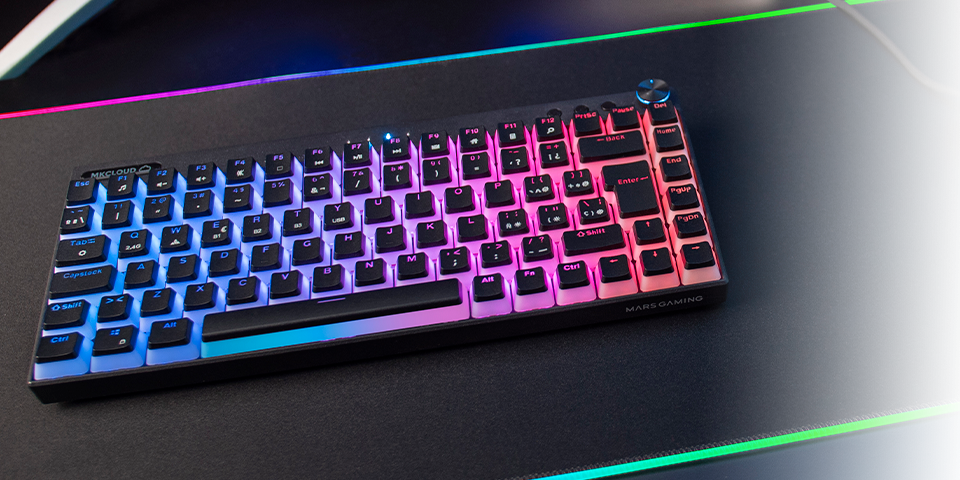 UNIQUE ULTRA-COMPACT 75% SIZE
All the features of a TKL keyboard in the smallest possible size thanks to the unique ultra-compact 75% form factor. Optimize your desktop to the maximum and carry your keyboard comfortably wherever you want.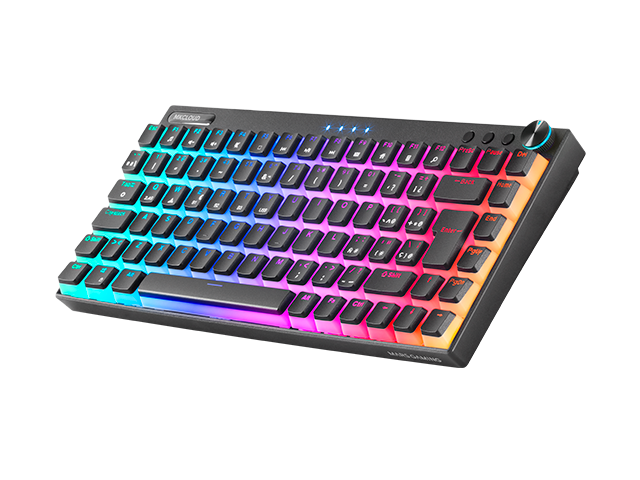 FULL RGB CHROMA LIGHTING
The MKCLOUD's RGB LED lighting system offers up to 16.8 million colors thanks to its control software. Choose from 21 special effects and customizable profiles to design the lighting to your liking: all possible options to get exactly the keyboard you want.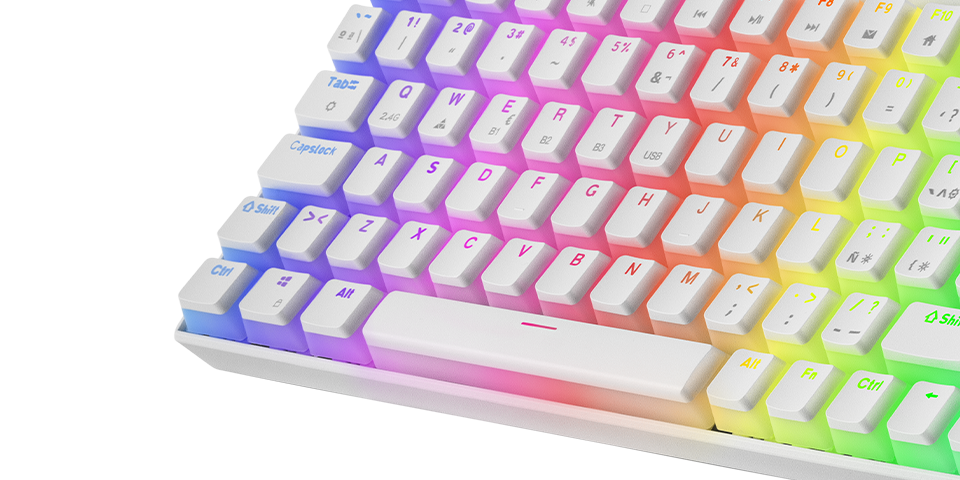 TRIPLE CONNECTION SYSTEM
MKCLOUD incorporates the most advanced and complete connection system in the market with three possibilities:
– 2.4GPRO WIRELESS MODE: Thanks to its USB receiver and its internal chipset with the most advanced 2.4GPRO wireless gaming technology, you will get ultra-low latency and the necessary performance to enjoy wireless at a professional level.
– BLUETOOTH 5.0 WIRELESS MODE: Connect to any device that supports bluetooth keyboards with total comfort for absolute versatility of use.
– REMOVABLE USB MODE: With its removable USB-C to USB-A connector you can connect the MKCLOUD by cable and achieve maximum performance with up to 1000hz of configurable polling rate and zero latency. Also, while connected, you can charge the internal battery ultra-fast.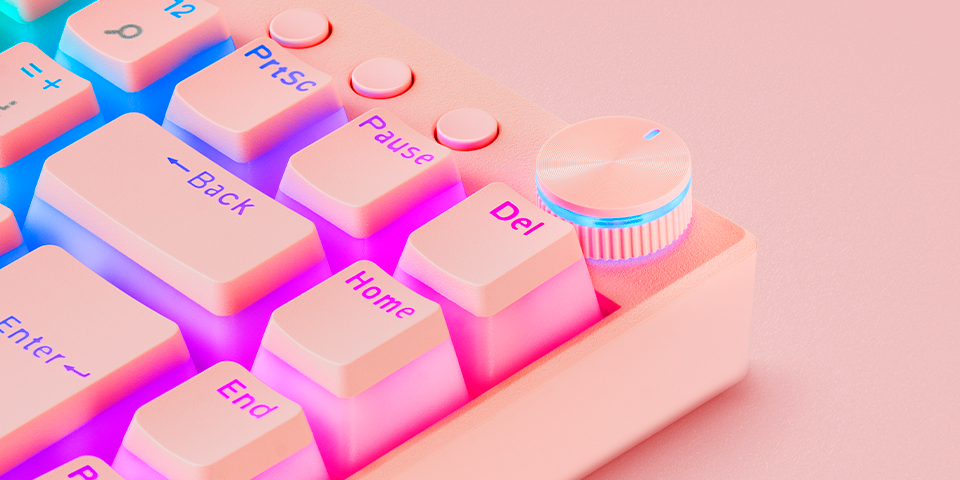 CONTROL WHEEL AND BUTTONS
MKCLOUD features a control wheel and buttons to adjust the lighting and multimedia system with total convenience.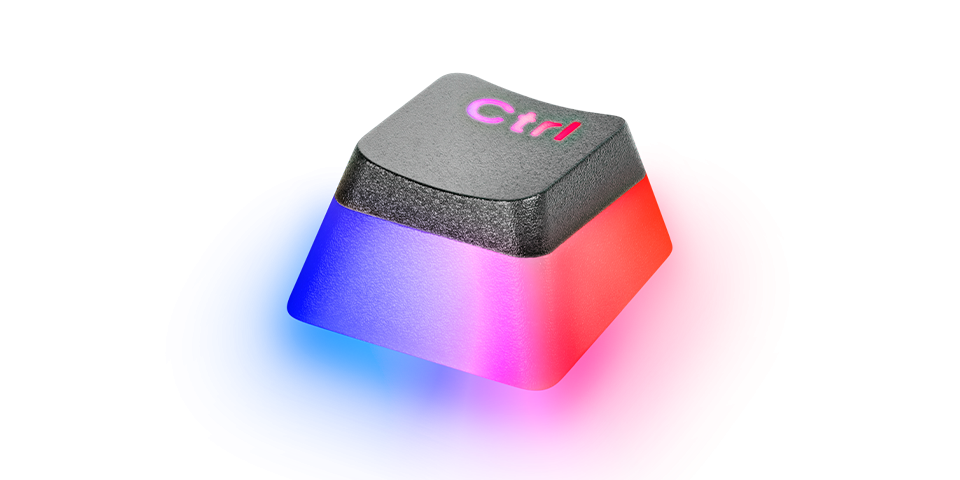 SPECTACULAR PBT PUDDING KEYS
Made of ultra-strong double-injected PBT in two levels, the MKCLOUD keys offer you an unprecedented lighting show where the keys seem to float on a base of light and color. What's more, PBT is a much stronger and more refined material than traditional ABS, so the keys will stay looking like new after years of intensive use. Forget about wear and tear forever.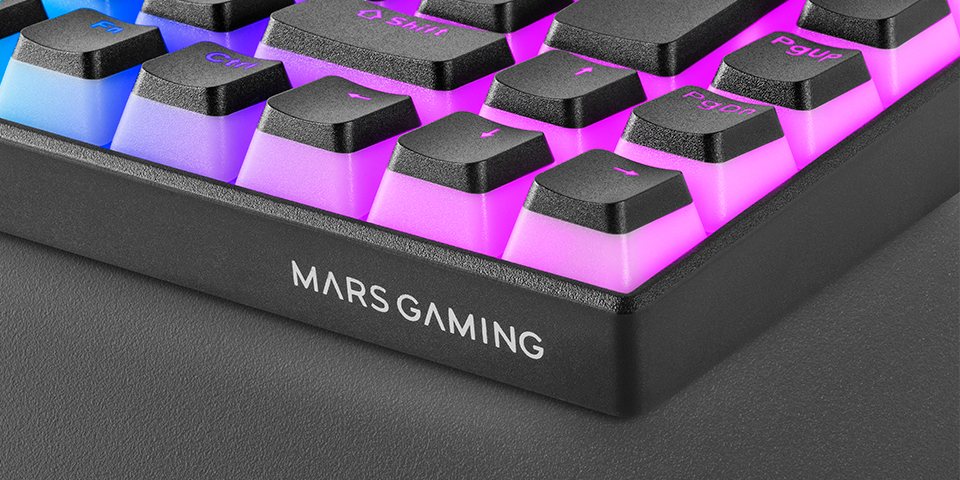 OUTEMU SQ PRO DUSTPROOF MECHANICAL SWITCHES
OUTEMU SQ mechanical switches guarantee total precision and reliability, while protecting your system as much as possible from the ingress of external elements such as dust. Equipped with a special protective casing surrounding the mechanical switch plunger, the SQ system of these exclusive OUTEMU switches extends the life of your keyboard to the maximum, giving you the reliability and professional performance you need.